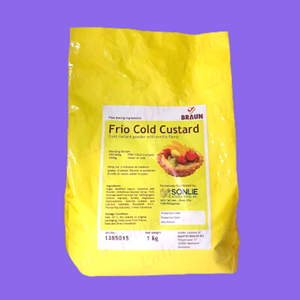 Frio is a powdered baking mix with fine custard flavour. It is cold soluble and freeze-stable. Mainly used as a filling, but also can be used in tortes, desserts, puff, choux, and Danish pastries.
delicious custard flavor
smooth texture
cold soluble and freeze-stable
easy to process (no cooking or numerous steps to follow)
USAGE:
40% Frio Cold Custard, 100% water or fresh milk
Whip at high speed for 3-5 minutes or until a creamy consistency is attained. A better flavor is achieved if milk or warm water is used.