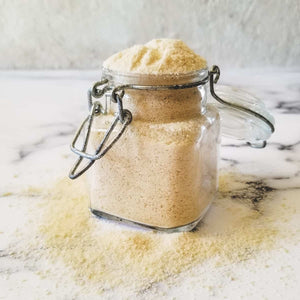 Powdered buttermilk can be great for cooking and baking. It can be used as a substitute for liquid buttermilk or an addition on its own. It adds a tart, dairy flavor to dips and dressings. When stored in a cool, dry place, powdered buttermilk can last up to 10 years.

You usually substitute 1/4 cup of buttermilk (60 mL) mixed with 1 cup of water (240 mL) for every cup (240 mL) of buttermilk in a recipe.

When substituting powdered buttermilk for liquid buttermilk, follow the recipe as you normally would. Simply add your mixture of powdered buttermilk and water when you would normally add the buttermilk. The recipe should turn out more or less the same.

Powdered buttermilk can add a tart, dairy flavor to popcorn. Mix buttermilk with a dash of salt and onion powder. Sprinkle this over popcorn, either microwaved or air popped, to add a little extra flavor for a tasty and healthy snack.

If you want to add a tart flavor to a dipping sauce, sprinkle in some powdered buttermilk and mix it into the sauce. Powdered buttermilk can be added to veggie dips, ranch dressings, and any other dipping sauce you use regularly.

After using your powdered buttermilk, make sure to place it in an airtight container before putting it away. Store in a cool and dry place, away from heat.